What's up guys? I just wanted to give all of my readers a quick heads up on my half-stead garden and it is a great heads up.
After picking my first okra of the season, I have now harvested one of everything that I grew up the summer!
I'm pretty stoked about it.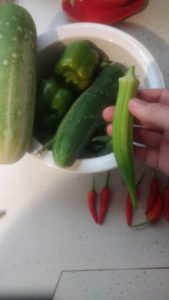 Cucumbers, Red Chili Peppers, Thai Chili Peppers, Better Boy and Cherokee Purple tomatoes, California Wonder Peppers, Blue Lake Green Beans, Bhut Jolokia (Ghost peppers), Patty Pan Squash (R.I.P. plant) and now Okra! So far this summer, we've had an abundance of all of it.
Even with some of the minor plant issues I've had this year, I would say that it is a pretty productive summer!
Now on to fall! Bring on the Carrots, Lettuce, Cabbage and Peas!
Thanks and God bless,
– T.D.M.
P.S. New podcast episode coming soon. I interviewed a pretty cool theologian and he was a blast to talk to.