It's no secret that one of the primary goals of the left is to emasculate western man to the point to where he becomes nothing more than a useful idiot. The standard that we once held for western male – masculine, domineering, strong, mechanical (or at least something of the ilk) – has been lowered down a few bars to the point to where the western male's primary occupation has became nothing more than a revolving door of marijuana, doritos, video games and cuckholdry.
Enter "Seth". . .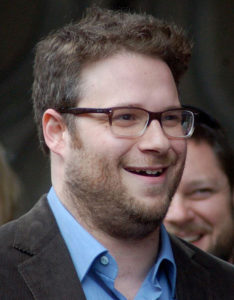 Yes, Seth Rogen, the perfect personification for everything the millennial male seemingly aspires to. Many people like to refer to those of the millennial generation as that – millennials. Me personally though, I'm leaning more towards dubbing people in this generation as "Seths." To me, Seth Rogen is the obvious choice for patron saint of the millennial male crowd as he is everything that the leftist/feminist media wants them to be:  a skinny fat cuck who has the self respect of a castrated earth worm due to heaps of approval seeking leftist activity.
When he's not making movies about weed or trying to show the world how being "bro" means being SJW, he's usually making an ass out of himself politically. There is a litany of offenses commited by Rogen in this department such as telling Ben Carson "f— you" for having a difference of opinion in regards to the nazi oppression of Jewish people during WWII, prepetuating myths such as the gender pay gap or rallying against GamerGate (just take a look at how perpetual TwitterCunt Rogen makes himself look stupid against Adam Baldwin), but the most laughable thing about all of those is the fact that he expresses his opinions with the air of the typical "Seth" (in place of millenial, duh!). Tons of "f—", "f—ing", or idiotic ad hominem attacks lodged at those who disagree with him, embodying the emotionalism that SJWs hold dear. Despite his desperate need for assurance and obvious lack of self confidence, he still has a legion of loyal and Seths because they relate to him. The Seths doesn't feel masculine, they're indoctrinated early into the cult of leftism and their obsession with mindless persuits of pleasure is well known (something that every Seth Rogen character is obsessed with be it beer, weed, porn or a combination of all of the above).
Generation Seth is only one key to understanding the decline of western male, however, as one must ask how far down a slippery slope have we sank as a society when people like Shia LeBouf are proported as being masculine because they have 5 pounds more muscle than the average man despite abusing their girlfriend and supporting the king of English political slime, Jeremy Corbyn? Or why in the hell are all of the action and superhero movies littered (with the exception of Robert Downey Jr.) with men who are "pretty" instead of the chiseled, somewhat haggard, broad jawed men that we were used to?
It's apparent to me that Generation Seth is part of a larger problem and that is the SJW/leftist war on everything sensible, disciplined, masculine and well. . .displaying serum levels of testosterone levels over .200.
Now I'm not claiming to be a hypermasculine sexual dynamo by any stretch of the imagination, yet I understand, appreciate and try to harnass as much as possible my masculinity. For me, it's apparent that with everything from liberal professors to radical feminists to cuckmercials to radical Islam (and especially this) threatening our existence, that now is the worst possible time to capitulate into limpwristed "Sethdom." We as western men should restore our masculine nature as men with traits such as physical capability, fatherhood, scarfice, patience, work ethic and balance in both physical and intellectual persuits at our very core. These things are a lot broader than just "social construction" and represent inherent survival values that are all but lost in modern society. With men in increasing numbers trading in their testicles for iPhones and social approval and with every Seth that grows a neckbeard and chalks "BERNIE 2016!" around campus, it grows further into metastisis, ultimately leading to decay of western male as we know it. If the Seths do not realize this now, then they will suffer a fate worse than death. . .the fate of Michael Sonmore. Oh, the humanity!
Seriously. . .no Michael Sonmore!! For the love of God!
– The Damn Messenger