Hello Night Shift Alumni,
Like what I did with the titles? First comes Rob and Then Comes Bob.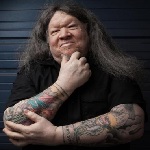 Joining me today on Shoot The Damn Messenger is none other than the original Heavy Metal Pastor, Pastor Bob Beeman! This interview was an absolute pleasure! When I say that I'm really stoked about this one, it's an understatement.
On this podcast we talk a ton about music, especially rock and metal and how it all ties in with faith. Pastor Bob shares some amazing stories and shares incredible wisdom from his 50 years of being in the Christian Rock scene!
It was an incredible experience and I hope you guys get a lot out of it!
Thanks,
TDM
DISCLAIMER: If you're a follower of Pastor Bob and are listening to this podcast I do want to say upfront that it is not necessarily a religious podcast but is one that mixes a variety of topics both secular and religious. With that given any of my views, views from my sponsor, etc. do not necessarily reflect those of Pastor Bob or anyone from Sanctuary International Matrix.