I must admit: the latest piece of celebrity grovel pushed on us by the intellectual garbage bin of the left, aka the Huffington Post, provided me with endless laughs, despite that not being its original intent.
For the who don't know what I am talking about, proceed with caution to this "wonderful and insightful" article penned by America's sweetheart – Jennifer Aniston.
(excessive groveling alert!)
http://www.huffingtonpost.com/entry/for-the-record_us_57855586e4b03fc3ee4e626f
Yes, Jennifer Aniston, the American actress known for her characteristic "I have a lump of Skoal in my mouth smile", wrote a rather scathing letter to the American public – particularly aimed at the tabloids – lambasting them with only the moral authority that the leftist celebrity machine posseses.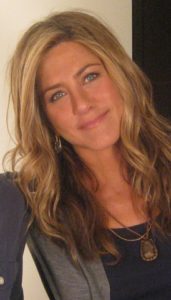 (Wonder if she's a wintergreen gal)
In this article, Aniston scathes both the paparazzi and indirectly, the American public for daring to have standards on things such as beauty. Being a nitpicking bastard, I couldn't help but to read it solely for the purpose of destroying every part of her (and the left's) pervasive narrative.
She begins with the typical "I usually don't. . ." argument. It's too predictable to comment on so I will just skip ahead to the underlined as no one has time for such a stupid and typical preface.
Let me start by saying that addressing gossip is something I have never done.  I don't like to give energy to the business of lies, but I wanted to participate in a larger conversation that has already begun and needs to continue. Since I'm not on social media, I decided to put my thoughts here in writing.

For the record, I am not pregnant. What I am is fed up. I'm fed up with the sport-like scrutiny and body shaming that occurs daily under the guise of "journalism," the "First Amendment" and "celebrity news."
She's not pregnant. God forbid something like that happen to a celebrity/feminist and ruin every chance of self indulgence that most celebrities hold dear. Oh my! This part, I have no issue with, however. . .the second line is what I took issue with.
She's fed up. . .because the papaprazzi and journalists are overattentive to her and she even felt the need (as many leftist/SJWs do) to take a potshot at our beloved First Amendment. I totally understand that she wants to keep whatever bit of privacy she has left, but she says this, yet like every celebrity indulges in press seeking behavior constantly. Just take a look at this little ditties:
"Don't give me attention. . .even though my nipples are poking out like I'm smuggling snickerdoodles in my top"
"Stay the heck away. . .even though I'm at the Ivy. . .which is notorious for paparazzi and celebrity sightings"
"Winter clothes in June are totally normal. . .nothing strange or attention seeking about them"
"I'm totally into architecture. . .I'm not doing this because of Brad Pitt, I swear!"
(Note: Aniston obviously never said those particular things mentioned in the hyperlink, so don't get butthurt and sue.)
Her track record of attention seeking behavior stretches longer than just these incidences, but I think that is a good sampler for now.
I don't have a problem with her attention seeking activity. When you are in the public sphere, primarily a celebrity actress, there is nothing wrong with attention seeking because in all honesty, it's part of business. It's not shocking that attention keeps you relevant, relevancy keeps you rich and the cycle revolves. I have no problem with that, but what I do have a problem with is when celebrities do all of these actions to achieve status through attention and then completely lambast the press and paparazzi for giving them what they want. . .attention.
It's obvious to me that Jennifer Aniston is the celebrity equivilant of the kid in high school who always said "leave me alone. . .stop messing with me" in reply to the shitshorm he recieved by faculty for wearing a "Fuck The World" t-shirt (or other variant). The diffence between Jennifer Aniston and "Fuck The World" t-shirt kid is that she gets paid for such attention with a much bigger platform and a more sympathetic (not to mention vapid feminist) support base.
Every day my husband and I are harassed by dozens of aggressive photographers staked outside our home who will go to shocking lengths to obtain any kind of photo, even if it means endangering us or the unlucky pedestrians who happen to be nearby. But setting aside the public safety aspect, I want to focus on the bigger picture of what this insane tabloid ritual represents to all of us.
Again, she put herself into the public sphere and continually does so. For the record, I do think celebrities deserve privacy, yet with such attention seeking measures like those which I have stated previously, they know what they are doing.
Funny enough, I couldn't help but to also snicker at the fact that what the "insane tabloid ritual represents" – which comes later – is somehow bigger than the safety of pedestrians (many of which could possibly be her fans) but I digress.
If I am some kind of symbol to some people out there, then clearly I am an example of the lens through which we, as a society, view our mothers, daughters, sisters, wives, female friends and colleagues. ?
This is the true meat and potatoes of hipocrisy. It's obvious, Ms. Aniston has no problem at all with holding men to certain standards of beauty (which I will get to later) and has no problem projecting herself as an ideal beauty in the process. How can someone who talks about objectification, proudly flaunt being People Magazine's "Most Beautiful Woman" not just once but twice (including 2016) and then go about railing against the tabloids and indirectly the American public for having certain standards? Let's also not forget about the fact that Ms. Aniston has been featured in GQ Magazine, FHM Magazine (UK) and in topless ads for her own perfume line. Granted, I also could've easily included the entire "Meet the Millers" strip fiasco but that horse is a zombie by now, laughing with stockholm syndrome at the beating it took before kicking the bucket. The point is, no one does such things without the direct intention of seeking attention for their own sexuality and promoting a body image (in which they took hook, line and sinker) that is both sexually attractive to many and in large part, socially accepted in part due to women like herself.
The objectification and scrutiny we put women through is absurd and disturbing.
SJWs, feminists and even Ms. Aniston have absolutely no problem with objectifying men and holding them to certain standards (like wanting, dating and marrying men who are willing to put their health and happiness in danger dieting to sub 10% body fat levels to have "omg teh sexxxy abs xoxo") yet they completely try to undermine what men find attractive: Nice hips, perky boobies and a plump, firm ass (no apologies for being blunt. . .any man who says otherwise is lying). Men do not want toothpicks, but we don't want a giant overlapping gut either and if a man says he does then congratulations, you found yourself a supplicant with sub .200 serum testosterone levels (or a complete simp who can't get laid otherwise).
Another glaring piece of hipocrisy is that Ms. Aniston, who has an aparrent problem with scrutiny, made millions of dollars by fictionally cuckholding David Schwimmer's character Ross Geller on "Friends". That in itself deserves it own article.
Anyways, moving on. . .
Here's where I come out on this topic: we are complete with or without a mate, with or without a child. . . We don't need to be married or mothers to be complete. We get to determine our own "happily ever after" for ourselves.
Yeah, that's the spirit! Western Civilization is on the verge of collapsing, who gives a rat's ass if a woman has children even though it's being threatened by an incompatible culture? The family unit is in shambles as it is, why not skip the marriage part? You go girl!
While I'm all for personal freedom, this message is the exact opposite of beneficial. To me, a more level headed response would be to encourage such things as marriage, children and a strong foundation yet still give women the moral encouragement and support needed to achieve their goals. Why not encourage women to seek the fulfillment that both family AND goal-setting activity (whether it be work, fitness, etc.) can bring? Sounds rational to me. But what do I know? I'm just a white cisgendered male.
We get to decide for ourselves what is beautiful when it comes to our bodies. That decision is ours and ours alone. Let's make that decision for ourselves and for the young women in this world who look to us as examples. Let's make that decision consciously, outside of the tabloid noise.
Let's be frank: What other purpose does beauty i.e. aesthetics serve other than to aid in repoduction? Something to look at with no utility? While she is entitled to her opinion, I have to disagree completely.
MEN get to decide what is beautiful because the very beauty she is referring to is for the specific purpose of reproduction. Likewise, WOMEN decide the latter about men.
Whatever traits either sex finds attractive are not because of a decision made by the attractor but by biology and several thousands of years of genetic and social (to a point) evolution. Just as women want a man who can provide them with security and exhibit traits that show he is capable of doing so (such as fitness, wealth, confidence, a stable career with adequate resources, etc.) men desire (on a biological level) a woman who can provide them with sexually stimulating aesthetics in order to reproduce and then provide them with offspring and ensure a healthy birth. Which traits do men find appealing? Traits like (as I alluded to earlier) nice hips that can support birth, perky boobies capable of feeding children and yes, a big round booty to indicate fertility.
If you've made it this far into her article, then just skip to the conclusion as Aniston continues with a random blah blah blah about fictional pregnancy and how she's sick of being a part of a narrative that she helped create.
From years of experience, I've learned tabloid practices, however dangerous, will not change, at least not any time soon. What can change is our awareness and reaction to the toxic messages buried within these seemingly harmless stories served up as truth and shaping our ideas of who we are. We get to decide how much we buy into what's being served up, and maybe some day the tabloids will be forced to see the world through a different, more humanized lens because consumers have just stopped buying the bullshit.
Despite the already noted hipocrisy of one who capitalizes on attention – like the attention she recieves which keeps her relevant – I will concede that tabloids are on the unethical side. Tabloids are often menacing and have little regard for the person they are stalking. However, she needs to realize that the more she craves the money and attention, the worse it is going to get. I can only have so much sympathy for a line of work that thrives off of the attention, makes a huge spectacle of itself to get attention from both fans and legitimate press and enjoys decadent parties only to appease the aforementioned press in order to recieve more attention.
She wants the attention and the money that comes with it, but none of the scrutiny involved. In truth though, this evasion of scrutiny is a luxury that not even the average Joe Schmoe recieves at their own job. If Joe Schmoe owns a restaurant and one of his servers messes up, he could very well get YELPed out of existence. Likewise, if Joe works a regular administrative job, he can easily recieve the same fate on the numerous complaint boards. The big difference though, is that Joe Schmoe in neither example intentionally craved such attention, he was just in the line of fire (perhaps beause of an off day at work). In Hollywood though, it's a completely different game and unfortunately, it's one the actors cannot dictate the rules of whenever they deliberately seek attention from the masses.
Oh and blaming the tabloids for how women are percieved in society. . .absolutely weak. She is the embodyment of one of the single most destructive forces to women and that is Hollywood itself. For her to blaming the tabloids for objectifying women is like a train conductor blaming spectators for a wreck – yes, they watched, but it was you who made it go off the rails.
– The Damn Messenger
All quotes outlined (with the exception those those otherwise stated as not being so) were taken from Jennifer Aniston's article "For The Record" – an original piece for the Huffington Post and were used strictly for criticism and without the intent of copyright infringement or plagiarism.
Image credit to photographer Andres Useche and used under the Creative Commons Attribution 2.0 Generic license.