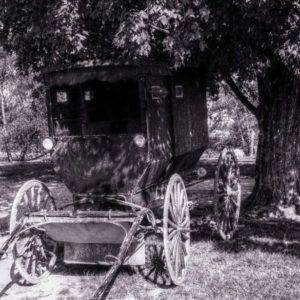 Recently, I had the opportunity (and pleasure I might add) of visiting Sugar Creek, Ohio and I found it to be quite a nice experience. I was really taken captive by how much humility and simplicity the Amish and Mennonite communities live in and it inspired me quite a bit to have some of the same grit in my own life.
Even as a good ol' Catholic boy I've always found the way they live to be both fascinating and beautiful but had never seen them in person before. I knew of the Amish and had read about their craftsmanship and humble attitude, but had never witnessed them in action and like so I was chomping at the bit on the drive to Sugar Creek.
Luckily for me, I was not disappointed. While walking around Sugar Creek I really loved how all the products that I saw in town were made with a special degree of skill and most of all I loved how many Amish and Mennonite folk were genuinely content, despite not relying on technology and despite being clad in long sleeves/dresses on a near 90 degree day.
However, I realize that a large segment of the US population may not see them in the same light that I observed them in. To many, they're just people in funny hats, riding carriages and afraid to progress or adapt to what we feel as being "progress". Likewise, to many they are a mere relic of the past or a novelty; People who "cling to their bibles" and "fear science."  "Backwards", dare I say.
Nothing clears up this misconception more than a book that I recently read entitled 20 Most Asked Questions About The Amish and Mennonites by Merle and Phyllis Good. It's a very short, 20 question read that is less than 100 pages and answers probably every single doubt that you have about these communities with both precision and brevity. It's definitely worth the read. My favorite chapter (or question) addresses the same misconception I just mentioned earlier – that of the Amish being 'backwards'. The authors answer that question better than I ever could.
They start off by telling the story of a family from New York who stop on the side of the road to observe an Amish family in Pennsylvania. They express mixed feelings about the family. While positive for the most part, the dad usually interjects with some sort of negative reference and eventually calls them "backwards" in a round about way. Later on, the authors ponder for a moment the entire question of progress and whether the "progress" that the fictional New York family (the Goldsmiths) are referring to would bring to them any more fulfillment than the simplicity of the Amish family (the Fishers). Then, in one of the most chilling and brilliant moments of the book, the authors pose a hypothetical question from the lens of the Fishers;
You say you prefer so-called progress to backwardness. Where will you be when you arrive? Where does this progress take people?
It's an amazing question and one that merits contemplation not just from the Goldsmiths but from everyone.
"Where does this progress take people?"
To a world where we live for nothing more than our next dopamine fix? A notification, a game, a chemical to replicate some sort of impulse resembling joy? A world where our years increase along with the size of the vacuum where our souls used to be? A world of increased confusion, frustration and heartache?
Even though the Amish/Mennonites are often the subject of both patronizing and ridicule in American pop-culture, one thing that I think we can all agree on is that their ways of life are unique and in the face of all of these questions, even the staunchest of skeptics could reluctantly admit more fulfilling than our progress could ever be.
So that leads me to ask: Are they really backwards or just looking upwards? Is true progress really just a better version of where we were or just the fruitless pursuit of hedonism? Regardless of what your particular religious persuasion is, it's food for thought, but probably not before bed.
Speaking of bed, it's about that time for me. Hope you enjoyed this nice little thought of mine.
Big shout out to the Amish  and the Mennonites (though I highly doubt y'all can read this!). Y'all sure know how to make an impression on this Catholic boy's heart.
God bless y'all,
– TDM